Mother Teresa Quotes
We need to find God, and he cannot be found in noise and restlessness. God is the friend of silence. See how nature – trees, flowers, grass- grows in silence; see the stars, the moon and the sun, how they move in silence… We need silence to be able to touch souls.
---
We think sometimes that poverty is only being hungry, naked and homeless. The poverty of being unwanted, unloved and uncared for is the greatest poverty. We must start in our own homes to remedy this kind of poverty.
---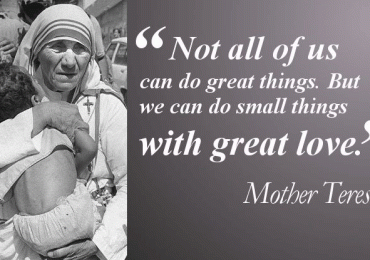 Love is a fruit in season at all times, and within reach of every hand.
I have found the paradox, that if you love until it hurts, there can be no more hurt, only more love.
Spread love everywhere you go. Let no one ever come to you without leaving happier.
---
A Nobel peace laureate, Mother Teresa lived a more complicated life than was known at the time–including a secret, lifelong struggle with her faith. Nevertheless, her very name became a metaphor for selflessness and goodness during her lifetime.
Here are 23 of her quotes, which people find inspiring nearly 19 years after her death.
---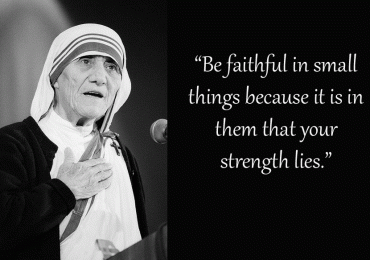 A woman who was loving, selfless, and wise. She dedicated her life to helping others, but she also shared her wisdom with us all. In this way, she gave to so many more than the lives she physically touched.
No matter what your belief system, there is much to be learned and gained from someone so selfless and loving, so kind and considerate, and someone so revered for very good reason. Here are some of her best thoughts.
---
Mother Teresa was an Albanian Roman Catholic religious sister born in Skopje. She lived in Macedonia for about 18 years and then moved to Ireland and finally settled in India where she lived for the rest of her life. Her real name was Anjeze Gonxhe Bojaxhiu. While she was born on 26 August she considered the date she was baptized on, to be her real birthday which was August 27. She was the youngest among all her siblings. According to Mother Teresa biography she was fascinated by the stories of missionaries in Bengal when she was very young. She founded the Missionaries of charity which is a Roman Catholic religious congregation that was composed of around 4500 sisters. It was active in around about 133 countries.
The Missionaries of Charity ran hospitals and homes for HIV/AIDS, Tuberculosis patients and also ran dispensaries and mobile clinics and not only that but they also had children and family counseling programs, orphanages, schools and it vowed to help the poorest of the poor with free services. Mother Teresa spent the better part of her life working for the poor and disadvantaged people and that is also the reason she was awarded with the Nobel peace prize. She died at the age of 87 in Calcutta, India after a very productive and inspiring life.
---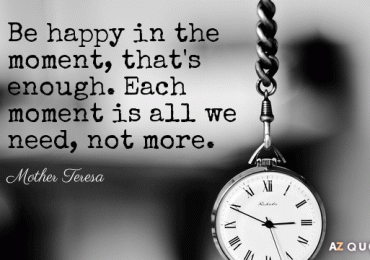 Blessed Teresa of Calcutta was world renowned for her love of the poor. Her work turned out to be even more impressive, when in 2007, ten years after her death, her writings revealed that she had experienced a lengthy time of spiritual dryness. Letters to her confessors were collected into a book, Mother Teresa: Come Be My Light, and posthumously published. From near the start of her ministry in Calcutta up through her death, she felt abandoned by God. This news was greeted with shock by the rest of the world. One of the brightest, Christ-like lights shining in the world, going through a decades-long dark night of the soul? She is the epitome of heroic virtue if she could live such a holy life while feeling desolate inside. We have much to learn
---
1. Not all of us can do great things. But we can do small things with great love.
This might be one of her most famous quotes. Mother is advocating a sort of applied idealism here. Being inspired to do great things is good, but she tries to direct our focus to something on the small end of the scale. You or I may never solve world hunger, but we can donate to our local food bank. We will never be able to stop all the injustices in the world (or even our community), but a kind word or a helping hand can transform someone's day.
2. Spread love everywhere you go. Let no one ever come to you without leaving happier.
Jesus washed the feet of the apostles at the Last Supper and used that opportunity to teach them: "I have given you an example, that you also should do as I have done to you" (John 13:15). Mother Teresa's advice is no different from Our Lord's. We are to be Christ to the world, and to every person we meet.
3.Being unwanted, unloved, uncared for, forgotten by everybody, I think that is a much greater hunger, a much greater poverty than the person who has nothing to eat.
Mother Teresa marveled at the spiritual poverty of the western world. Usually, our perspective on the "important things" in life arrives at funerals, tragedies, or hardships. Just think of our country's reaction to the 9/11 terror attacks. For a time, life slowed down… it inevitably sped back up. In the middle of daily life, it can be hard to remember what truly matters—and, even further, what truly makes us happy.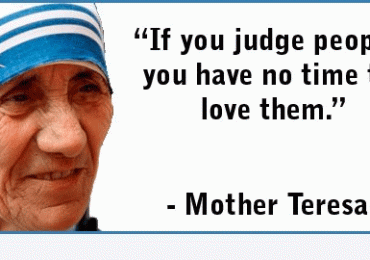 4. I am a little pencil in the hand of a writing God Who is sending a love letter to the world.
Trust is implicit in love, but it's not automatic when it comes to faith. We have to develop trust in God, to unite ourselves to His will, and serve Him as best we're able. And when we talk about the need for us to love & trust God, let's not forget God's infinite love for the world (see John 3:16).
5. Intense love does not measure, it just gives.
The particular character of Christ's love has a special Greek, theological term: kenosis. It means a self-emptying. The fruits of Christ's redemption is due to His eternal offering of Himself during the Passion. Being His disciples, we are called to love in the same way. And yes, that's possible with the help of grace! St. Monica is a famous example. She loved her son Augustine, and prayed for fifteen years for his conversion to Christianity. St. Monica only sought the good of her son, and gave of herself.
6. Every work of love done with a full heart brings people closer to God.
Potentially many people are brought closer to God as a result of a work of love. First, there is the individual responsible for the work. Second, there is the person affected by it. Third, there is anyone who heard of/observed it. Even a tiny act has a ripple effect that goes beyond the charitable soul!
7. Let us always meet each other with a smile, for a smile is the beginning of love.
This is similar to one of the quotes above. Can you fix someone's problems in a conversation? Can you say exactly the right thing to make their day? Can you relieve them of their burdens? Most often, the answers are the same to all three questions: no. The beautiful simplicity and practicality of Mother Teresa comes in to anyone who feels despair at those "no" answers.
8. You can love all men perfectly if you love the one God in them all.
The converse is also true: if we do not love God, we cannot love all men perfectly. Mother reminds the Catholic Church that we're not a social work organization. Once our good works become separated from the love of God, they lose the driving force of Christian charity. Alleviating poverty is a goal of the Church's charitable works, but loving Christ in our brothers and sisters is the ultimate reason for our efforts.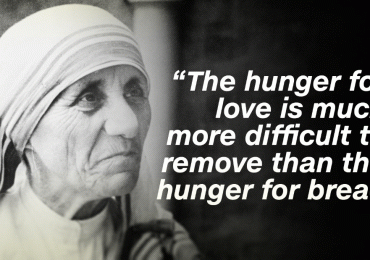 9. I believe God loves the world through us—through you and me.
The Ascension has a mystery embedded in it, that of the Church. Why the Church? Why didn't Jesus arrange for the communication of his sacraments, grace, and Word another way? The answer is that God wants our participation in the plan of salvation. He wishes to employ all of us toward the end of the salvation of souls… regardless of our opinion of our ability or worth.
10. At the end of life, we are going to be judged on the basis of our love for one another.
The parable of the sheep and the goats (Matthew 25:31-45) is real. God won't ask us for the number of degrees we had, the balance of our bank accounts, or the highest position we attained in our careers. How did we live out the love that we've been blessed with? We have opportunities every day to serve others (especially in our families)—opportunities that may never arise again. Think of times that someone extended a loving hand when you needed it. Perhaps they had no idea that you needed it! You can be that person to others… you need to be that person to others.